Wooden block printing is one of the oldest printing methods techniques – Block Printing is a method of using a carved piece of wood to imprint an image on paper or fabric. This is basically a stamp that you press onto paper, cloth or other material using ink. Block-printing can be done with wood, linoleum, rubber or various other materials, wood being the oldest medium of all. The reason why it is called the oldest printmaking method is due to the evidence of its existence as early as the 15th Century BC. It has been done around the world with its roots in India, China, and Japan.
Block prints are done by eye and telltale signs of the human hand, even imperfections are part of the ineffable humanity and beauty of the craft. An image is carved into a block of wood (the negative space is removed), to create a stamp. The block is then coated with dye and used to stamp a pattern right onto the fabric. It creates a beautifully "imperfect" handmade look that has become classic in prints.
The main areas of India known for their stunning block prints are Gujarat and Rajasthan. In Gujarat, the technique was developed and practiced by Paithapur families, who created very intricate textiles using printing in conjunction with mud resist. This style is referred to as a Sodagiri print. Various regions of Gujarat have their own print styles as well, with motifs such as birds or fruit. Natural dyes are the traditional printing inks, such as indigo and madder root to create the beautiful colors that are characteristic of India.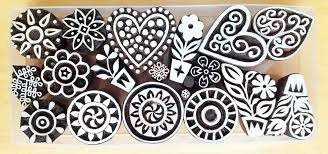 Block printing eventually spread from Gujarat to Rajasthan, where many colorful and classic print styles were developed, such as calico. This familiar design is traditionally created by printing the outlines first, and filling the color in afterwards. The region eventually became a trading hub that would help bring block printing to the western.
By the end of 15th century, Portuguese traders discovered the beautiful fabrics being crafted in India- these textiles quickly became high demand in Europe, and trade between the East and the West gained momentum. The 17th century saw the East India Company granted with a monopoly on trade, and thus, Indian block printed fabrics. Small quantities were shipped, making them that much more precious. India reached its peak as a textile exporter during the 18th and 19th centuries.
However, the market was undermined when England developed machinery and synthetic dyes that could effectively "fake" the block printed look. We at Shape Of Life  are helping the art of wooden block prints to stay alive and also to uplift the lives of the craftsmen who are into this art.
We have used the wooden block prints to showcase United Nations 17 Sustainability Goals which can also be used as a stamp to print on fabrics, paper and other surfaces.